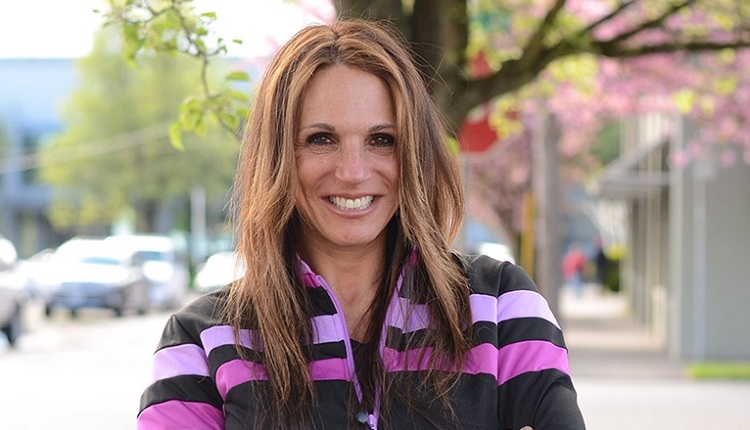 Andrea Leonard is the founder of the Cancer Exercise Training Institute, author of 14 books and countless articles, and is a sought-out speaker on cancer and exercise. Her impressive resume, numerous accolades and impact on thousands of lives is unquestionable; but what is not immediately obvious is that Andrea has perhaps had just about every reason imaginable to throw in the towel. Andrea has persevered multiple battles with cancer for both herself and alongside several loved ones. She has overcome significant personal challenges and family adversity as a once single mother of two. She has persevered as a committed fitness professional with a mission to give resources, hope and strength to those surviving cancer.
Andrea shares with us an honest glimpse into her journey to success - the ups, downs, peaks, valleys, and challenging realities of her relentless pursuit of making a difference in the lives of cancer survivors.
LV: How did you get started in the fitness industry?
AL: In 1984, during the latter part of my senior year, I worked at Holiday ESPRE Center (part of Bally's) as a fitness instructor making $3.35 an hour. Adorned in a shiny blue lycra leotard and tights, leg warmers and K-Swiss tennis shoes, I showed members how to use the circuit equipment. I even got to be in a commercial with Heather Locklear, who at the time was the spokesperson for Bally's. I used to workout with Sylvester Stallone's father, but didn't know it at the time!
LV: What significant events in your career brought you to where you are today?
AL: In the summer of 1984, I was diagnosed with thyroid cancer. I underwent a complete thyroidectomy that left me with no energy and an extra 20 pounds. Several weeks after my surgery I was at the beach with my friends, hanging out at a dance club. My boyfriend sent me an electronic message that appeared throughout the nightclub, "Lose weight, it's over." At the time, I had no idea of the impact those words would have on my life.
I entered University of Maryland in September, determined to lose weight and get him back. My first year of college, I struggled terribly with my weight and energy in the absence of a thyroid. I tried every possible diet and unconventional method of losing weight; sometimes putting my life at risk in an effort to be thin. As the months passed, I realized that I needed a permanent and healthy solution. Personal training was in its infancy, but I knew that as a trainer, not only could I help myself to be/stay fit, but I could help others with similar struggles. I became certified by NSPA, ACE, ACSM and NASM, special populations expert by the Cooper Institute, and NASM Performance Enhancement Specialist and Corrective Exercise Specialist.
In 1992, I became the Personal Training Director for the National Capital YMCA in Washington, D.C. It was during this time that my mother was diagnosed, for the second time, with breast cancer. She asked me if I would help her with her recovery. She had suffered with permanent nerve damage and a frozen shoulder with her pervious mastectomy and did not want to go through the same kind of suffering a second time. I happened to be training her surgeon and asked her what she thought about writing a book on exercises for breast cancer survivors. She thought it was a great idea and desperately needed.
The internet was barely in existence, which made research quite arduous. I enlisted the help of one of my trainers, Amy Halverstadt, who was getting her Masters' degree at George Washington University. She decided to do her thesis on exercise and breast cancer to help us with the project. We were also able to recruit the chiefs of breast surgery at Georgetown, George Washington and Johns' Hopkins University Medical Centers. For three years we collaborated with them as well as physical therapists, occupational therapists and oncology nurses to write the first book of its kind; "Essential Exercises for Breast Cancer Survivors," published by Harvard Common Press in 2000.
In 1999, my husband and I decided to relocate to Portland, Oregon. I had no job, no clients, no family and no friends. I needed a cause; something to inspire me. I decided to create a non-profit, the Breast Cancer Survivors Foundation. The goal was to raise money to give breast cancer survivors grants to work with a personal trainer who specialized in working with cancer patients, free of charge. In 2000 and 2001, I orchestrated two fundraisers that brought in close to $50,000. It was at this point that I created my first training program exclusive to breast cancer patients. It's comical to think back to my humble beginnings. I barely knew how to use a computer. I traveled across the country with a dry erase board, not knowing how to use PowerPoint. I taught workshops in the most peculiar settings to small groups of interested participants, in an effort to build a referral network.
In 2004, it occurred to me that there were hundreds of thousands of other cancer patients that needed help and that I needed to expand my training. I dissolved the Breast Cancer Survivors Foundation and created the Cancer Exercise Training Institute (CETI). In the past 13 years, I have written 11 editions of the Cancer Exercise Specialist Handbook and two editions of the Breast Cancer Recovery BOSU Specialist Handbook, in addition to several other books and videos on cancer and exercise. Over 7,000 health and fitness professionals in 17 countries have become Cancer Exercise Specialists through the CETI. My goal has and always will be to provide cutting-edge education and training in the field of exercise oncology always with a personal touch.
LV: Was there ever a time in your career where you felt like you were just spinning your wheels?
AL: It has been a difficult journey at times. When you are a pioneer, people will inevitably copy you. Some say it is the greatest form of flattery. I would argue that point. I have had a handful of people that I have trained who then created their own competing programs. When you are a grassroots company, and a big corporation steals your thunder, it makes you want to just give up. There was a time, about 6 ½ years ago, that I was ready to give up. I tried a different career path for a very short time, but quickly realized that my heart was not in the game. My mother was diagnosed with thyroid cancer and my father with prostate cancer (he also had bladder cancer). This brought me to 18 first-degree relatives with cancer. I had to keep trying, so I went back to what it is I do best.
LV: What do you think is the greatest opportunity in the fitness industry right now? The biggest deficit?
AL: The greatest opportunity is medical fitness. With the aging population of baby boomers, we are inundated with middle-aged and older clients who need special training. Many have co-morbidities and it takes special training and education on the part of the fitness professional to be able to safely and effectively work with these clients. We have too many "trainers" that have minimal education or training and certifying bodies that don't require adequate continuing education on certain subject matter. At the CETI, Cancer Exercises Specialists must re-test every two years, or take our in-house cancer-specific continuing education to ensure that they are up-to-date on the most recent information in the oncology arena. How else can we claim that they are an expert on the subject matter? This is the greatest problem in the industry: low, or no standards.
LV: What does your future look like?
AL: I pray to God first and foremost, to be cancer-free and in good health. I am confident that more certifying bodies will get on board alongside the Medical Fitness Network and offer CETI's Cancer Exercise Training, as well as many of my exceptional colleagues' medical fitness specialty courses. Five years from now, I hope that there are Cancer Exercises Specialists in every town, city, state, and country and that every cancer patient has access to the appropriate care and training to improve their treatment tolerance and excel their recovery. Personally, I hope that I will have a log cabin in Colorado and be able to surround myself in the beauty that I have dreamed about for decades.