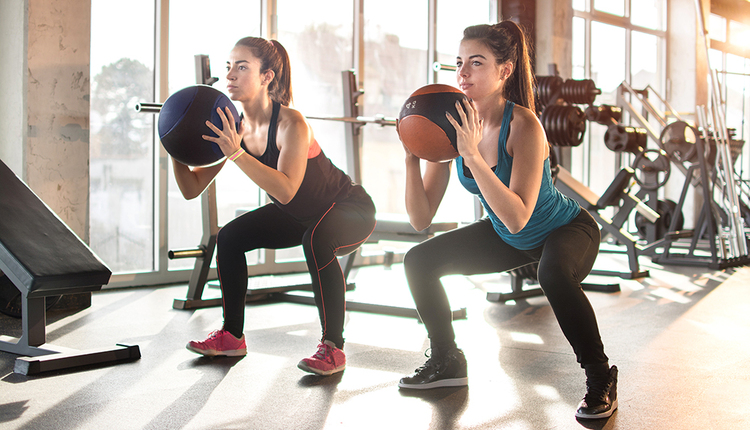 Boutique- and small studio-style training is becoming more prominent in today's ever-expanding fitness industry. Fitness professionals have more opportunities for business ownership on a smaller scale. 1,500 to 3,000 square foot spaces in prime locations can be as profitable per square foot as larger gyms. Specialty studios focusing on one specific modality such as spin, yoga, barre or Pilates can be easy to outfit by only buying the specific equipment needed for that type of training.
Personal training and general fitness studios can be more challenging to outfit. Whether you're training athletes or general public, it's important to have enough equipment and tools to meet the many needs of several different fitness levels and goals. On any given day a trainer may need tools for mobility, stability, strength, power, speed, cardio, agility or sport skills. Most gyms can afford to do this in a 10,000+ square foot facility with hundreds of thousands of dollars in equipment. The challenge becomes - based on your training model - how can we create an optimal training environment with efficient use of space at a fraction of the cost?
When designing a small studio to meet many potential needs, flooring and floor space needs to be your first priority. Depending on a trainer's training model, blank floor space can be versatile for all variations of training methods and allows room for several people to train in semi-private or small group settings. If your gym uses free weights, rubber flooring can help protect the floor as well as the weights, for longer-lasting equipment and less repair or replacement costs. Rubber flooring is easy to clean, much safer than concrete and can work for any space. Depending on type, color and design, flooring can come in a variety of costs and can even be self-installed for extra savings. For a slightly higher cost but for added benefit, artificial turf can be used as well. The cost of artificial turf has become more affordable and companies now have styles specifically for gyms. Properly-used artificial turf is great for sport performance skills, or bootcamp style classes, and can also add flare to the overall "look" of your facility.
Equipment selection is very important for smaller studios. Three things to consider when choosing equipment is 1) versatility, 2) foot print and 3) storage. Buying single-muscle group machines take up significant space for only one to a few possible exercises and would quickly eat up that precious floor space. When purchasing a piece of equipment, the more exercises you can do with each piece, the better.
Strength training racks should have adjustable hooks and safety bars that can be used for both upper and lower body strength and power programing, instead of having different racks for each. Depending on your facility, there are various types of racks, such as wall-mounted or free-standing. Some companies can customize several rack spaces side by side, all connected, for less material and a lower cost than multiple free standing racks. Several rack systems have storage options for plates and bars that are connected right on to the rack to save more space, and is cheaper than standalone storage.
Outside of traditional strength training, several equipment manufacturing companies have done a great job at filling the need for smaller footprint and more versatile set ups, most of which can be customizable with add-ons, features and attachment points for other equipment. These newer styles of "functional training systems" can often be designed when purchased. They can include pulley setups, adjustable platforms, various pull-up grips, and attachment points for smaller equipment such as balls, ropes and suspension trainers. These styles of training stations can be against a wall or as a centerpiece of a room. These systems can also be great for small group training and bootcamps. Some of the larger systems can include monkey bars, heavy bags, rebounders and rope pulls. One of the best parts of these systems are that they include plenty of storage space for those other small pieces or equipment, such as bands, kettlebells, and medicine balls, so your facility isn't filled with shelves and storage racks.
A cheaper option than the larger functional training systems would be a few smaller versatile systems such as adjustable pulleys or suspension training systems. These are also great to have one piece of equipment that can provide several exercises options and can often easily be placed in a corner or flat against a wall. A few sets of adjustable dumbbells take up as little as 2 feet, as opposed to an entire 20-foot rack of dumbbells. When you do need to implement storage racks, vertical racks for equipment such as sandbags, kettlebells, or medicine balls are usually better, although some of the previously mentioned equipment can have this storage built in.
A few final tips on overall planning, saving money and space: be sure to shop around and compare prices. When you purchase multiple pieces from a single distributor or manufacturer, they will often add a discount on combinations or larger purchases. Finally, design your space layout on paper to-scale with everything you plan on purchasing. Some manufacturers and distributors can assist you in this process. With these ideas in mind you can design your dream facility based on your training model. You will create an optimal training environment with efficient use of space at a fraction of the cost.