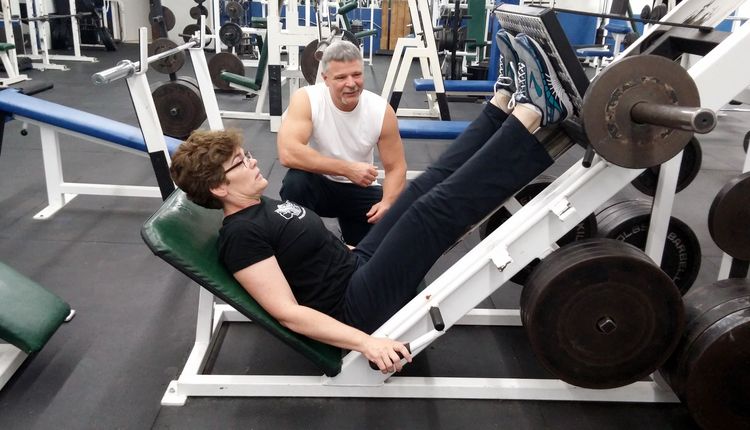 Mark Mueller, a 2017 PFP Trainer of the Month award winner, is trailblazing areas of the industry in need of more attention. He is a driving force in the Multiple Sclerosis community and helping to bridge the gap between disease and the benefits of fitness. There is no question of Mark's commitment to raising the bar in the industry – for both his clients and those of us seeking for greater purpose in our careers.
Business Name: Mueller Personal Training
Website: www.muellerpersonaltraining.com
Facebook: https://www.facebook.com/muellerpersonaltraining
LinkedIn: https://www.linkedin.com/in/mark-mueller-29974397
Year started in business: 2012
Education and Qualifications
· BS Psychology
· ISSA (International Sports Sciences Association): Elite Trainer
-Certified Fitness Trainer
-Specialist in Exercise Therapy
-Specialist in Fitness Nutrition
· MS Fitness Challenge: Director or Trainers (www.msfitnesschallenge.com)
· AFPA (American Fitness Professionals and Associates): MS Fitness and Wellness Specialist
· "A" Kido Karate Association International (American Kido): Black Belt and Instructor


Recognition & Awards
2015 Elizabethtown Area Chamber of Commerce "Rising Star Award"
2016 PFP Trainer of the Month (December)
2016 Medical Fitness Network (MFN) Trainer of the Week (May)
What inspired you to start your business?
My custom furniture business was beginning to adversely affect my health and I knew that I needed to change professions. Personal fitness has always been a passion of mine so it was a natural direction to turn. Working for area gyms did not give me the flexibility to work with my clients on the level that they truly needed so I decided to branch out on my own. My true inspiration comes each day when I see my clients achieve what they once thought to be impossible!
What is one hard lesson you've learned in business you believe has been most valuable?
Trust yourself with the knowledge and experience you possess and don't be afraid to ask others for help or advice when necessary. Being a personal trainer is not about being on an ego trip or being better than someone else. It's about caring and working together to achieve the greatest results possible. Looking to someone else for guidance when you are not sure is not a sign of weakness. It's a sign of strength and character. My clients are actually my best teachers.
If I asked one of your clients why they choose you over other trainers, what would they likely say?
One thing I constantly hear from my clients is that I listen and that I make them feel comfortable by meeting them where they are. Not only do I listen, I continually ask questions to get feedback so that I can understand my client better.
Name one or two ways you are trying to raise the bar in the industry.
The fitness industry has barely been tapped in to several areas and I am working hard to take it further in areas such as disability and disease, especially Multiple Sclerosis. We are discovering new ways of treating this disease with fitness and getting incredible results. Neurologists and physical therapists are sending their patients to us because of the results we are finding. We are also working towards getting the insurance industry to include qualified fitness trainers as viable providers.