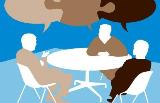 Fitness professionals often ask me how I attract new client leads and how I then convert and retain lifelong clients. I've created a simple formula that has worked for me and for other fitness professionals; and I hope it will help you whether you work in a gym or studio or own your own business.
My formula for finding and keeping lifelong clients that value the services I provide, I call my "G.E.T. Principle." I've provided you with a simple outline below that will guide you through this principle and empower you with the tools to "GET" you more clients and keep them for life!
GIVE


Many fitness professionals are apprehensive to give away too much because they feel it will devalue their service or people ultimately won't pay for their service if they believe they can get it for free. I like to use the analogy of the holiday card. If I send you a holiday card, do you not feel obligated to send me a card back in return? When you give your email subscribers, social media followers, or those in your community something of value, they eventually will come to trust you and feel more confident in buying from you, becoming a committed lifelong client, and will refer you to their friends.
Here are a few simple ways to GIVE to your clients and potential clients that can have a small or large investment:
- Provide short "how to" or motivational videos posted to YouTube or your blog
- Participate in or coordinate a community event, even if it isn't directly related to fitness (like a food drive)
- Support a charity or organization that may be of special interest to one of your clients
- Send client appreciation gifts like handwritten cards or a fruit arrangement to their office
- Call or text message just to see how your client is doing
- Offer free teleseminars offering Q&A or speak for 15-20 minutes on a topic of your expertise; you can record these calls and offer them as a bonus to your clients (try using the free website:
www.freeconferencing.com
)
ENGAGE


Keeping your clients engaged is a key to developing lasting relationships. We have more options than ever to keep constantly engaged with our current and future clients. Clients want to feel as though they are a part of something bigger than themselves!
Here are a few simple ways to ENGAGE your clients and potential clients:
- Maximize social media: your Facebook page (personal and/or business pages) is the easiest marketing tool as well as a tool for you to communicate and engage with your clients
- If you have a blog, encourage feedback and comments on your posts with simple contests (you can do this on social media as well)
- If you have a large client base (probably over about 25), you may look into offering your own membership site. Checkout www.ning.com for a very inexpensive but effective, simple way to create your own "Facebook" for your business.
- Be a connector. If you know one of your clients is looking for a particular service or expertise and you have another client who may be able to help them, connect them! Being a connector will give you credibility and set you up to be the "go-to" person they count on!
TRANSFORM


To attract and retain clients, it is important that your programs are not only effective, but transformative. Basically, what they get from you that helps transform their lives beyond just the exercise program you offer.
- Are you giving your clients tools that will assist with their success?
- Are you creating a safe place for them to exercise and improve despite their insecure feelings?
- Are you consistently there for them, not just when you need to collect payment?
- Transform their lives and you will transform your business, guaranteed!