Brian Schiff continues his series on functional training with steps on how to perform the long step forward lunge, without a stride. This simple, two-step exercise is ideal for those with knee or patello-femoral issues; and Brian even includes a short step version for those uncomfortable with the range of traditional lunges!
Execution

| | |
| --- | --- |
| | |
| Stand with one leg staggered in front of the other. | Keeping the front heel on the ground, shift the body weight forward onto the lead leg allowing the knee to extend no further than the toes. Lower to a pain-free depth. |
Perform two to three sets of eight to 15 repetitions.
Application
This exercise is ideal for clients suffering from knee arthritis or patello-femoral pain syndrome. A recent study in the Journal of Orthopedic and Sports Physical Therapy compared short and long step lunging (with and without striding) and the resultant force on the knee. Stationary lunges with a longer step and no stride (preventing knee over toes) in angles less than 60 degrees of flexion proved to produce the least amount of force on the knee joint. Forces were significantly higher between 60 to 90 degrees.
Additional Notes
Beginning in this position in a shorter range of motion is advocated for clients unable to tolerate traditional lunges. Once they are able to go into deeper ranges in this position, they may be able to advance to a more traditional long step lunge with a stride. Short step and stride lunges may serve to mimic descending stairs, but this anatomical position should be avoided with repetitive exercise training until the knee joint is able to withstand the added force. Pain with eccentric loading should always guide your exercise prescription and progression.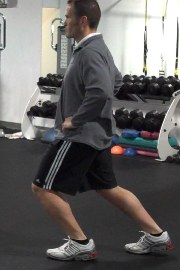 Short step lunge
Brian Schiff, PT, CSCS (www.brianschiff.com) is a licensed physical therapist, respected author and fitness professional. He became a Certified Strength and Conditioning Specialist (CSCS) in 1998. In 2000, he opened his own personal training and sport-specific conditioning facility, Fitness Edge, in Dublin, Ohio. Brian has presented at several professional conferences and seminars on injury prevention and sport-specific training.