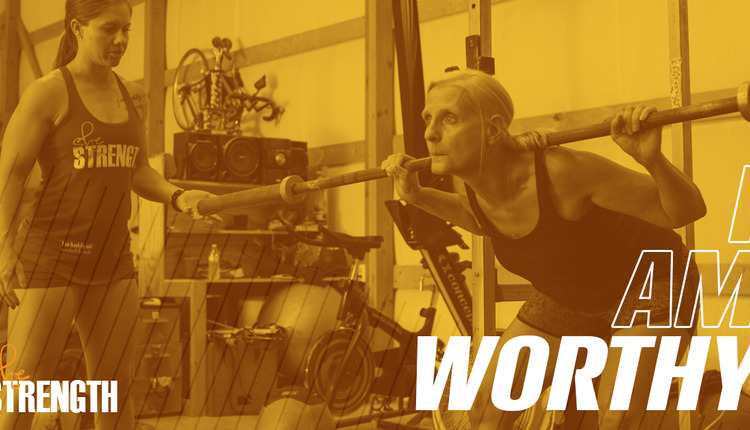 Anna Woods, a 2017 PFP Trainer of the Month award winner and founder of sheSTRENGTH, is focused on a bold mission. Her empowering messages of self-worth and self-confidence inspired by her own personal journey are reaching the women who she believes need it most but may not have access to the support they need to achieve it. Not only is Anna a top-notch fitness professional, but her gift of empowering others will most definitely continue to have a profound impact. Here is how Anna is raising the bar in the industry…
Business: sheSTRENGTH By Anna Woods Fitness
Website: www.shestrength.com
Facebook: www.facebook.com/annawoodsfitness
Year started in business: 2007
Education & Qualifications
• CF-L1
• ACE Personal Trainer
• Functional Aging Specialist
Recognition & Awards
• 2017 PFP Personal Trainer of the Month
• Published writer in CrossFit Journal, WatchFit, Breaking Muscle
• Featured on Same 24 Hours Podcast, Brodette Nation Podcast
• Featured Trainer in Garage Gym Life Magazine
What inspired you to start your business?
I attended a Strong Women Conference by Dr. Miriam Nelson my sophomore year of college with my mom. My mom was an aerobics instructor in the 80-90s, and I grew up watching her teach classes and train people my whole life. But I wasn't truly interested in following her footsteps, until hearing, seeing, and learning about how impactful strength training is on the body, especially as it relates to age, independence, disease prevention, balance, outward appearance, and confidence of the adult female. I wanted to teach everyone how to do the same. I wanted to provide a quality of life for women that many blamed on the process of aging. When I learned that those aging processes can be lessened or even reversed, I made it my goal to teach every woman I know how to do the same.
What is one hard lesson you've learned in business you believe has been most valuable?
That most people do not need a better fitness program, a stricter nutrition plan, or a more qualified trainer (in most cases) to get the body they want--they truly need to grasp their inner self-belief and self-love. Once a person can learn to love themselves through making themselves a priority, and their health important over other's needs/wants—they will have confidence and determination to make any program successful. They will seek out what they love to do and make it a long-term journey.
If I asked one of your clients why they choose you over other places, what would they likely say?
That my main goal for them is to love themselves, to have confidence to pursue a program that inspires them, and that my heart is truly for their own good, not my personal programming. I spend most of my time talking about self-love, self-focus, self-care, and personal priority. My main goal is to provide permission and a way to pursue all of those things through community, support, and walking-the-walk myself.
Name one or two ways you are trying to raise the bar in the industry?
I'm trying to raise the bar in this industry by redefining failure. I feel most people fail a fitness/nutrition program because they have so many false expectations they are led to believe. I try to teach the opposite…by negating the "all-or-nothing" approach, by redirecting one's focus from defining their fitness progress through scale weight, and helping more people adopt a lifelong journey to fitness by removing deadlines and quick-fix mentalities. And lastly, to help remove the comparison game for so many women, by being a very transparent trainer who shares her struggles, vulnerabilities, and fears as a marketing factor-not just her body and 6-pack abs.
I empower women through strength training and the power of working toward a strength number on a bar or dumbbell, not constantly running and wearing oneself out trying to get away from a number (on a scale)—especially in rural areas. It's one of the main motivators for my sheSTRENGTH app; I wanted to create an "online fitness studio" community for those who didn't have a local one. Most women in my area of the world don't have access to gyms, equipment, workout areas, or community centers—so I'm working to help women find confidence and a safe way to lift weights in their garages, barns, or basements. I provide coaching and accountability through a mobile app presence. I want my mission for sheSTRENGTH and its movement to be the leading factor in these two areas in the next few years.