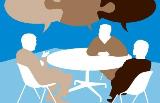 Whether you own your own business or work for a gym, networking can be an effective way to building new business and staying front of mind in the community. Unfortunately, most people go about networking the wrong way. Most people approach it from the angle of how many new clients they can attain or what leads and connections will benefit them most. Effective networking is an art; when you can master the art, you will find it is more productive and gives you better return on your investment of time and money. Here are two strategies and techniques to network effectively:

1. Forget your 30-second elevator pitch

While it is extremely important that you can articulate what you do and who you serve as succinctly as possible, I find the best way to communicate what you do is to talk about your ideal client; this way your 30 seconds really paints a picture, thus can better determine whether they are an ideal client themselves or if they may be able to offer referrals.

For example, "My ideal client is a woman 35-45 years old, who has children and also works full-time but just can't find the time to take care of herself. My unique fitness program enables a busy mom to get in an effective workout in less than 30 minutes before the kids wake-up." Saying this versus, "I am a personal trainer and I can work with anyone looking to lose body fat and tone up..." provides a clearer picture of what you actually do and who you're targeting.

2. WIIFT

If there is one acronym to remember that can have a direct impact on your business, it's WIIFT: what's in it for them? Instead of going into a conversation with a new connection focused on what you can offer them, approach the conversation in the spirit of "what's in it for them." Rather than telling them outright what you offer, ask about their business first. Ask, "who is your ideal client" or "how can I best help support your business?" When you ask this, they feel compelled to return the favor and ask how they can best help you. This is a way to make networking synergistic rather than one-sided.

Many think networking is a waste of time and they are unable to see the benefits of their time and money spent at events, coffees, luncheons, etc. Practice the art of networking with these two new strategies and I assure you, you'll see a direct impact in your business.