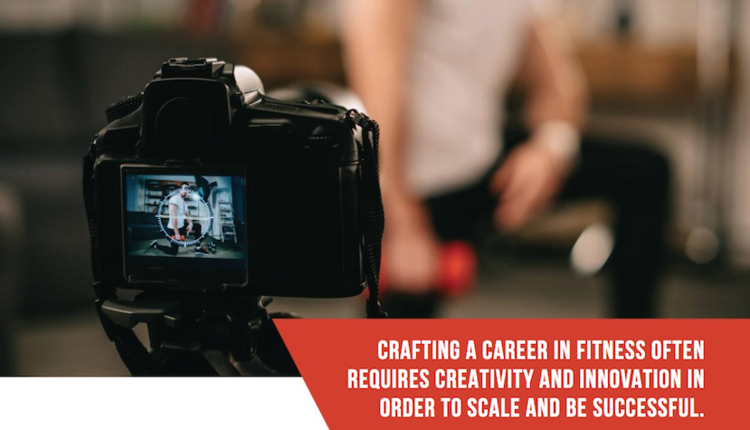 Trainers are in high demand. The Bureau of Labor Statistics reported in that employment for fitness trainers and instructors is predicted to grow 19% between 2021 and 2031, which is a rate much faster than average compared with other occupations.
The downside, however, is that the turnover rate for trainers remains high for reasons including long hours and inconsistent schedules, unreliable pay, or training less than motivated clients (resulting in even more unreliable pay).
Crafting a career in fitness often requires creativity and innovation in order to scale and be successful. Why? Truth be told, there can be drawbacks to relying solely on clients for dollars. Income is based upon a client's commitment and often requires that a fitness professional's schedule is based on accommodating everyone else. Tom Nikkola, in an article entitled "Why Personal Trainers Burnout," cites many of these reasons and encourages trainers to think of ways to generate income outside of training clients in order to stay in this career "for the long haul."
When considering a career in fitness, most immediately think of two options:
1. Work in a gym or studio.
2. Open a gym or studio.
These options can be excellent ones, given that a fitness professional is able to find a job with competitive wages or open a studio successfully. However, not all care to open a brick-and-mortar business or want to work in the current state of many gyms, paying low wages and offering only sporadic hours. "In situations where regular paid hours are not possible, almost every trainer needs to have some other ancillary revenue stream where they're not trading time for money," Geralyn Coopersmith of Coopersmith Consulting stated in the most recent Club Industry report.
One of the best ways to discover new options is by looking around to people in the industry who have been successful and learning how they did it. Some of the most prominent fitness professionals influence far more than the clients they serve individually. They find a way to serve the industry as well.
What are some unique ways a fitness professional can pair fitness with other skills to craft a career that is scalable? Here are some concrete ideas for using fitness as a "catalyst for your success":
1. Fitness + Administration: Careers in fitness don't have to necessarily be solely within the spaces of the weight room. Some find their space in more of a corporate setting, working for an organization in fitness (to which there are countless). Point being: there are options in addition to being a traditional trainer or fitness instructor. Consider program director, manager, sales and any other forms of administration. Look at jobs posted through a fitness association you admire (a recent search yielded positions under a fitness education company for partnership sales associate, graphic designer, program director, etc.). Many of these jobs allow you to work remotely, providing possible time to work in and out of the gym setting.
2. Fitness + Social Media/Media Production: Many fitness studios hire out for social media content production, and you could head that up if social media is a skill of yours. When you are not training, you could be walking the floors, capturing images of the studio to produce for feeds. This provides an additional stream of revenue outside of direct training time and is a much-needed skillset for many gym owners who don't have the time or resources for media production. Some gym owners don't even realize this is an area you could help them in until you offer.
3. Fitness + Writing: There are many courses and opportunities to learn how to write for fitness publications, and make a living doing so. One way to start: guest blogging is a great way to break into industry writing and get your name out there. As you become more proficient and earn a name as a fitness writer, you can learn how to get paid for it.
4. Fitness + Corporate Wellness: Corporate wellness positions are increasing as insurance companies are seeing the value in prevention to lower health insurance premiums. Health coaching is an up-and-coming role that employers are seeking to help their employees take active behavior change. Medical centers, public health programs and med spas are just a few places to browse for opportunities. Don't see an opportunity? Create one. Offer lunch-and-learns to local places that need such programs but may not be offering them and seek to develop a relationship that may foster development of such a program that you could be heading.
5. Fitness + E-Commerce: Do you want to get online to create revenue generation? In the modern internet area, making revenue on the internet is a worthwhile option available to all willing to put in the work. There are many ways to do this, but know that if you are training online (although it can be a good option) you are still trading dollars for hours (meaning if a client cancels, you are out of luck). Consider other alternatives to create income, whether it be program design that you sell, courses and e-books or CEC content you could create. Once you create a digital product to sell, it can continue to sell for you after the initial work is done. Placing your content on a marketplace or well-trafficked location will get you more sales than your individual website alone. Get that content in as many places as you can, and let that passive income pay you long after the project is done.
Crafting a career in fitness requires creativity and learning what you have that is unique to offer as a fitness professional. The best advice? Study those you want to emulate. See what they have done, and how they have done it. With some planning, thought and dedication to growth as a fitness professional, a career in fitness that is fulfilling and not overly taxing is achievable and worthwhile.
Stephanie Silber is a certified personal trainer and group fitness instructor, and has a Master's Degree from Miami University and Bachelor of Health Sciences from the University of Kentucky.