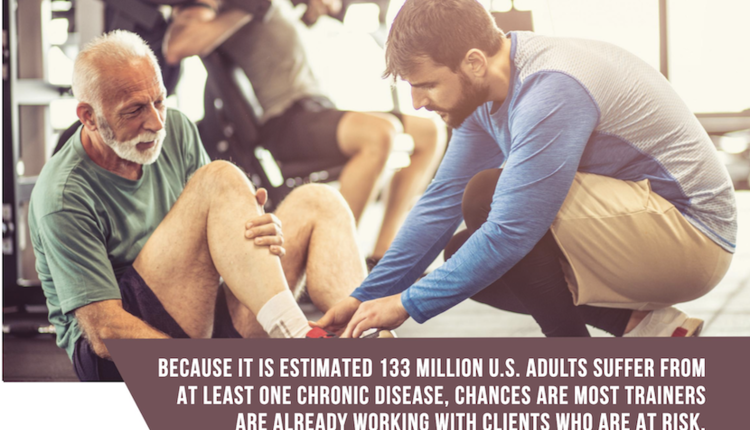 Sometimes it is hard to see the good in what is considered bad. While in the midst of the Covid-19 pandemic, gyms, studios and training centers suffered. According to IHRSA, 47% of jobs in the fitness industry were lost and close to 25% of small studios and gyms were permanently closed, resulting in almost $30 billion in lost revenue. Two years ago, most of us had never heard the term comorbidity, now we cannot seem to get away from it. If there are any positives to take away from Covid, we now have a much deeper understanding of how chronic disease or multiple chronic diseases can negatively affect every aspect of life, and the importance of staying as healthy as possible. Consequently, Covid has provided an opening for fitness professionals who are familiar with how exercise affects chronic diseases, medications and the associated contraindications.
Because we, as a society, finally understand the importance of staying healthy, personal training revenue is going to rebound to almost $13 billion in 2022. Trainers who are ready to take advantage of this opening by becoming Medical Fitness Specialists will be in a prime position to become essential health care workers. Based on simple math there will be no shortage of clients anytime soon as 70% of the U.S. adult population is overweight or obese, over 100 million Americans have high blood pressure, and over 10% of the U.S. population has diabetes. Furthermore, because it is estimated 133 million U.S. adults suffer from at least one chronic disease, chances are most trainers are already working with clients who are at risk.
What may not be understood is by offering personal training services a trainer is implying that they the knowledge, skills and abilities to provide a safe workout. However, a basic personal training certification suggests the holder is qualified to only work with apparently healthy clients. If a personal trainer provides orthopedic diagnostic and rehab advice to the client who comes in with a sore shoulder from golf or tennis, if nutritional advice is given to the client who wants to get their summer beach body, or if a trainer massages a client who complains of tight hamstrings or traps, without relevant training that provides a course of study and a comprehensive exam, the trainer is most likely working outside their scope of practice, and subjecting themselves and their organization to a lawsuit. Because fitness is the frontline of healthcare, there is need for qualified fitness professionals who know how exercise effects clients at all levels of health care prevention.
Chronic disease is defined as a disease that progresses slowly, lasts for a year or more, requires ongoing medical care, and interferes with activities of daily living. Most chronic diseases are caused by a few risk behaviors such as smoking, poor nutrition, excessive alcohol consumption and a lack of physical activity. Unfortunately, the deleterious effects of inactivity are progressive and compounding, resulting in a worsening state of disease and/or dysfunction. Cardiovascular disease, muscular atrophy, hypertension, lipid disorders, diabetes, osteoporosis and arthritis will all deteriorate with prolonged periods of inactivity. The good news is that physical activity can positively affect over 30 chronic conditions, making it the number one deterrent of chronic disease in primary and secondary health care prevention. Medical fitness is an essential part of the health care continuum, that through targeted activity and exercise stops, reverses or reduces the severity of disease or dysfunction at every level of health care prevention.
Medical Fitness Specialists develop exercise programs, and work with individuals and groups who want to (a) avoid chronic disease, (b) who are at risk for chronic disease, (c) have health conditions that may be mitigated or managed by exercise and activity, (d) are newly diagnosed with disease and need exercise guidance,or (e) have completed a medically supervised rehabilitation program, such as cardiovascular or orthopedic and need to continue the progress.
In conjunction with medical fitness, prescriptive exercise has been a topic of discussion for decades for fitness professionals. Unfortunately, the bureaucracy of insurance companies has produced an uphill battle that has prevented many trainers from accepting health insurance, and consequently, has made the cost of training prohibitive for clients who could benefit the most.
So, to further help clients who suffer from one or more chronic disease, along with the Medical Fitness Specialist certificate, qualified fitness trainers can take also advantage of MedFit Care. MedFit Care is a telehealth company that offers medically necessary exercise prescriptions for consumers and patients nationwide.
MedFit Care provides a HIPAA-compliant process that allows qualified clients to use pre-tax dollars such as a health savings account or flexible spending account or deduct training costs as a medical expense on their tax returns to pay for training sessions. Qualified trainers simply refer their clients to the telehealth portal where the client fills out a brief appointment form. Once submitted, the client will be contacted to schedule a virtual appointment with a physician licensed in their state, via the HIPAA-compliant SimpleHealth platform.
Covid-19 was a catastrophe with worldwide implications. Very few segments of society were left unaffected, but the fitness industry has adapted and started to move forward. Medical fitness and MedFit Care provide a path for fitness professionals who want to become an essential part of the health care community by using evidenced-based training protocols and work with clients who suffer from one or more chronic disease. Medical Fitness Specialists and MedFit Care are on the frontline of healthcare by aiding in the management and prevention of chronic disease. Fitness professionals will benefit by:
Expanding your scope of practice to the largest, fastest-growing demographic in the United States.
Gaining credibility and network with other healthcare providers.
Increasing income by expanding service offerings.
Providing clients a means to use pre-tax dollars to pay for training sessions.
Earning valuable continuing education credits with the Medical Fitness Specialist course, and other courses offered through MedFit Classroom.
Dr. Dan Mikeska has been involved in fitness for almost 40 years. As the owner of a fitness studio, he understands the importance of scope of practice, networking and education. In addition to a master's in Human Movement, and a doctorate in Health Science, he has numerous certificates from NASM, ACE, CETI, MFN, and has the EIM II credential. Dan is on a number of advisory boards, and is adjunct faculty for A.T. Still University and American Public University. He is also the author of the best-selling book Clinical Exercise Specialist Manual: A Fitness Professional's Guide to Exercise and Chronic Disease.