As I write this, I am in the middle of my second week of owning my own personal training studio. The task as come with some positives and some negatives but overall it is the best thing I have ever done. I have also had a learning curve on legalities, liabilities, lease negotiations and overhead. Thankfully I have surrounded myself with some great people who have been there before and offered their expert advice, so that I learn from their mistakes.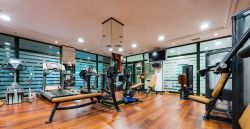 Going out on your own can be very scary, primarily because the unknown. Most people would assume that equipment would be your largest expenditure and for the most part they would be correct, however there are some secret costs most people never think about when decided to open a business for the first time. Having been through the process of opening, I know have the knowledge to convey to you what to expect if you to open your own brick and mortar:

Lawyer Fees
My recommendation for any pursuing the idea of opening their own gym is to seek at an attorney that has negotiated leases and can help with your client agreement and liability waiver. Lawyers are expensive but in the long run this will save you a ton of heartache when you get it right the first time. My lease negotiation took nearly five months, this racked up the lawyer fees however, I received most everything I requested.
Construction Costs
Most every project will require some type of "build out" to confirm it to the liking of the owner. Some landlords will trade free rent for you spending the money on the construction or they will do the build out and fix it into your lease. Either way, if you want to knock walls out and add colored paint you will be paying a pretty penny.
Signage
You want people to know you are in business, right? You will need a nice sign outside your building. In the lease they will specify what type of sign they prefer and in my case may direct you to someone that can help you with the sign. A great sign is a must and they are not cheap.
CAM
CAM or also known as common area maintenance which means all the maintenance that needs to be done around the building you are renting. This is negotiated in the lease and from my experience needs to be capped each month therefore they cannot raise the price each month. This is good for you the tenant because it will include landscaping, garbage and snow removal. The CAM can be pricey and will need to be considered when budgeting with the lease payment.
There are so many more hidden costs that you do not think about when deciding to go your own route but hopefully this is a start for you if you decide to move forward.